Once the Tashi stories are written by Anna and Barbara Fienberg, and have gone through the editing and typsetting process with the editor Sue Flockhart, it is then time for Kim Gamble to imagine how to illustrate the stories.
Cover design
When Kim receives the first typeset pages, he begins by working on cover ideas. He will send a few rough covers to Sue to show Tashi encountering his latest villain. Here are a few examples of cover roughs for Tashi and the Mixed-up Monster along with Kim's final cover:
The editor shows the cover roughs to other people at Allen & Unwin and once the best cover has been selected, Kim will do the coloured artwork.
In the meantime, Sue writes the back cover blurb and checks it with Anna. Kim's final artwork is scanned and given to Sandra Nobes, the book designer, who positions the front cover type and designs the back cover, with the blurb and back cover illustration.
Internal illustrations
Kim does the internal illustrations in pencil and sends them through to Sue in batches. Sometimes he draws a picture that spreads across two pages, other times he does smaller scenes, or just little pictures of Jack and Tashi together as the story unfolds.
Here are some of Kim's working drawings for the picture book about Tashi:
Rough sketches from There Once Was a Boy Called Tashi
Final illustrations from There Once Was a Boy Called Tashi
Storyboard for There Once Was a Boy Called Tashi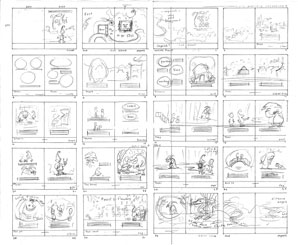 If Kim is illustrating a new character, he will show Anna and Barbara to make sure they like the way he has imagined them. Sometimes Kim draws different versions of a character before he settles on the way they look. For example, there is a lonely ogre called Gloomin in There Once Was a Boy called Tashi. In the first character sketch, Gloomin did look sad and lonely, but he also might have been a bit too scary for very young readers, so Kim created another Gloomin, a big shaggy ogre.
When all the illustrations are complete, Sandra scans them and positions them in the text. She gives Sue a print out of the pages so she can proofread the cover copy and check the text and placement of all illustrations. When everything is correct, Sandra sends the final files on disc to Sue, who then sends them off to the printer.
Back to Behind The Scenes main menu